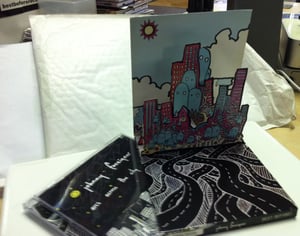 £

19.99 - On Sale
The 1st EP and the coolest release EVER from Johnny Foreigner.
The EP features '3D POP-UP artwork' illustrated by long time collaborator and newest band member Lewes Herriot (his 1st effort for the band).
SUPER EXCLUSIVE and impossible to find anywhere.
Our Irish Distribution centre closed down and returned a single sealed box of these amazing EP's to us at BBR HQ. What a find! We thought these were all 'sold out' years ago.
So, we thought we would share these last copies with the hard-core JoFonians. Get one now, they will be gone in no time!